BENT NOTE PUBLISHING
Designer Tee Shirt Slogans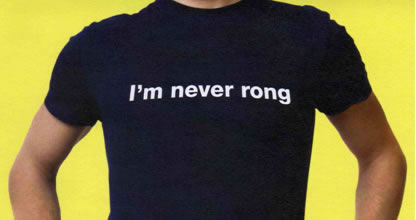 Sick of sloganed tee shirts that are crass and unfunny? How about slogans that promote some cause or music group you've never heard of? Or T shirts that are so covered in graphics you can't read and appreciate the slogan?

Bent Note Publishing offers original designer slogans that make a personal statement with maximum impact. With 150 to choose from you can have the whole range emailed to you as pdf file attachments for just USD 9.95 (NZD 14.95 within New Zealand). You're bound to find more than one or two that reflect your take on life!

From the photos on this site you can see the kind of kind of T shirt slogan we produce. You can also download some free samples.

At the same time, if you want to go a step further, we can put your choice of slogan on to a tee shirt and send it to you by return post (USD 19.95 or NZD 29.95) plus postage of NZD 5.00 within NZ, USD 5.00 to Australia, and USD 8.00 to rest of the world. Just let us know the colours you want for both tee shirt and text as well as your postal address in the enquiry box on the Contact/Purchase page.

Make a statement! Wear a Bent Note sloganed tee shirt! Or just print off slogans that appeal to you and hang them on your wall!
© 2006 - 2010 Malcolm Lane. All rights reserved.